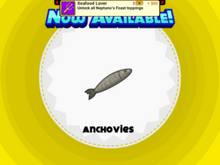 Anchovies are a holiday exclusive placeable that customers can order during Greekfest in Papa's Nachoria. The placeable is unlocked on Rank 62 with Kylee.
Anchovies is a standard topping that customers can order in Papa's Pizzeria Deluxe. The topping is unlocked at Rank 36 with Lovie.
Anchovies are a standard topping in Papa's Pizzeria GOLD. They are unlocked on Rank 20, with Mandi.
Customers who order this