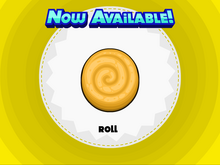 Roll is a bread in Papa's Cheeseria 2. This bread is unlocked at Rank 4 with Mallory.
It also is in Papa's Donuteria 2 as a cutting shape. It is the last cutting shape to be unlocked. It is unlocked with Ace on Rank 50.
Customers Who Order This (Donuteria 2)

This list is incomplete. Please help by adding CORRECT info to finish this list. Once the info is added, remove this template.